Is Copywriting for Me? 7 Signs Indicating YES
Have you been asking the question, "Is copywriting for me?" Cue "I Saw the Sign" by Ace of Base and see how many signs below resonate with you!
Prefer watching to reading? No prob. Here's the video version of this post from my Ask The Copy Bitch YouTube channel.
1. You love to write.
You were that kid in high school and college who loved getting assigned research papers instead of exams. You love writing emails—and maybe folks have even complimented you on your clear, compelling copy. You love writing holiday cards. Heck, you even love writing grocery lists.
Here's the thing: As a freelance copywriter, you'll likely be writing 90 percent of the time. So you need to enjoy it. Why choose a line of work that feels like torture? That's what the job you had selling pots and pans the summer before junior year of college was for. (True story!)
2. You write well.
It's not enough that you love to write. You need to write well, meaning your grammar and punctuation are perfect—or pretty darn close. Feeling a little rusty on the mechanics? Good news, sports fans: You can learn (or re-learn) the mechanics. Take the time to refresh before officially launching your business or claiming you're an expert.
3. You write quickly.
You can't wait for the muse to strike. You need to write on demand when the client comes calling. And you often need to juggle vastly different topics. Not to mention, you'll be writing different types of copy—from blog posts to white papers, social media posts to PPC ads. You need to get the job done, delivering error-free copy whenever the client asks.
4. You're deadline-oriented.
This goes hand in hand with the previous point. You know deadlines aren't suggestions, but rather rigid rules for when something is due. You appreciate that other people—the client, a colleague—are often waiting on you so they can do the next step. You thrive on deadlines—and you never miss. You don't fall into the trap of allowing perfection to be the enemy of good enough.
Listen, copywriters are a dime a dozen. Competent copywriters are rarer. Competent copywriters who make deadlines are rarer still. Competent copywriters who make deadlines and who have a sparkling personality and sidekick sloth, well . . .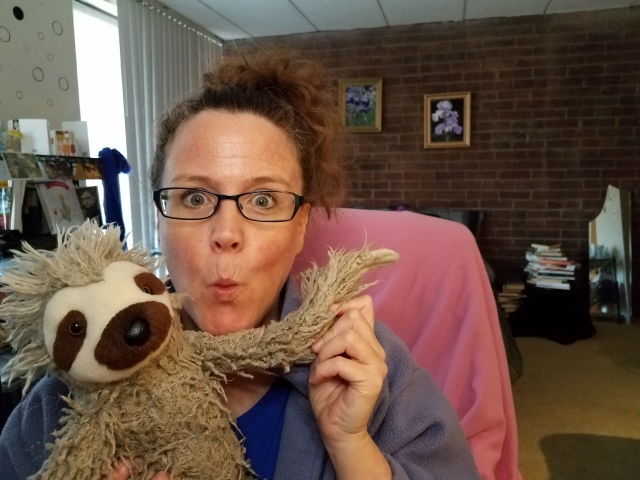 5. You understand what marketing copy is—and you're willing to continue learning.
No one is born knowing what "inbound marketing" means or how to write an optimized headline or how many characters you should shoot for in an email subject line. I hardly knew any of this stuff in 2002. So what did I do? I read. I studied. And I still read. I still study.
Three excellent places you should definitely check out:
HubSpot Academy: HubSpot offers FREE certifications in relevant areas, including inbound marketing and content marketing. I absolutely recommend taking the courses. (Then, you can add the completion badge to your website and your LinkedIn page).
Copyblogger: Copyblogger has plenty of ungated articles, but also a budget-friendly Academy.
Marketing Profs: If you really want to get into the nuts and bolts of marketing, this is a great place to start.
6. You have supportive folks in your life who believe in you and see the potential.
You need supportive folks in your life (or an incredible ability to ignore criticism and compartmentalize when people question what you're doing) to start any sort of business, but especially one where you work out of your spare bedroom in your jammies.
7. You get really jazzed by what copywriting is. And what is copywriting, anyway?
Copywriting—at its most basic—is any writing that helps promote/sell a product, service, or cause. So if you love the idea of seeing your words in action—and helping businesses and organizations along the way—then, yeah: This is a good sign copywriting might be a good career for you (whether you decide to freelance or work for a company as an in-house writer).
OK, you just KNEW I couldn't mention Ace of Base without inserting the song, right?
I used to work in radio a lifetime ago and played this song on the regs. COLD ENDING, BITCHES! (And they're still together. Who knew?)
Got more questions like "Is Copywriting for me?"
Maybe questions about how to start a copywriting business, how to charge for copywriting, and the like? Check out my Ask the Copy Bitch YouTube channel or read other articles on my Ask the Copy Bitch blog.
https://etrobbins.com/website/wp-content/uploads/2017/04/robin-bradley-logo-300x105.png
0
0
Robyn Bradley
https://etrobbins.com/website/wp-content/uploads/2017/04/robin-bradley-logo-300x105.png
Robyn Bradley
2021-11-22 10:44:12
2021-11-22 14:45:07
Is Copywriting for Me? 7 Signs Indicating YES