How to Market Your Copywriting Business Online
You've hung out your virtual shingle for your copywriting business. Now what? Where are the clients? How can you help them find you? Step up, friends. Because that's what I discuss in this post on how to market your copywriting business online.
Below, I'm going to talk about one specific way: optimizing your website for location-based copywriter searches.
If you're more of a visual learner, check out the video I did on this topic, which I'm embedding at the end of the post. I share my screen and walk you through how location-based copywriter searches work and the evidence in Semrush.
Let's get to it.
What do I mean by location-based copywriter searches?
If someone's in the market for a freelance copywriter, they'll likely turn to Google. One of the phrases they might search on will be the word "copywriter" or "freelance copywriter" and the city they are in—or the nearest "big" city to them, like Dallas, Boston, or Tampa.
How do I know this?
I'm seeing it in Semrush, the keyword research tool I use.
Check out the screenshot below. This is a small sampling of location-based searches for copywriters.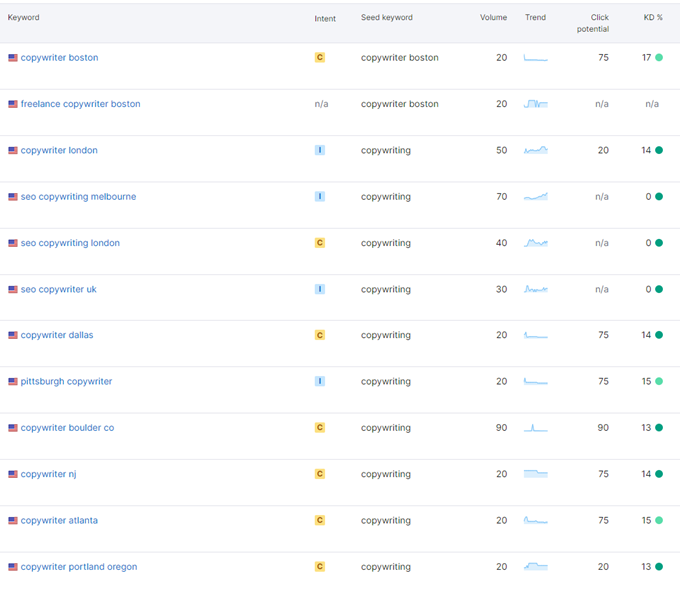 Now, 20 or 30 searches a month isn't a lot. (Seventy and 90 are better.) But when it comes to successful marketing, the key is doing a bunch of little things well. Plus, check out the column labeled KD or keyword difficulty. The lower the number, the better your chance of ranking well for the keyword phrase.
So a copywriter in the Boulder, Colorado, area could crush it by creating a kickass landing page optimized around the phrase "copywriter boulder co."
Bottom line: Location-based searches for copywriters have a lot of potential. If you effectively optimize a page on your site for a location-based search, the page could bring in business—while you sleep.
If the page is compelling and the rest of your site does well, prospects will likely be reaching out. No, maybe not a ton. But again—this is simply one recommendation for how to market your copywriting business online.
But it's a straightforward way. And the best part about it? Once it's done, it's (mostly) done. (You do need to monitor its effectiveness. More on this in a moment.)
Another benefit of going through this exercise is seeing who you're competing with online (both in paid search and organic listings).
How do you optimize your website for location-based copywriter searches?
Use a keyword research tool like Semrush (paid) or Google's Keyword Planner (free) and search for "copywriter" and a large city near you in your state.
If you're in a big state like California or Texas, do searches on various big cities. For example, here's what Semrush is showing me for some cities in California.

You can choose the city nearest to you and optimize for it. Or you might decide to optimize various pages on your site for these California-based searches since you reside in the state. The beauty of freelancing copywriting is that you don't have to be in the same place as the client. So why not become the "go-to" copywriter in various places?
Build a compelling landing page.
When building a page around a keyword phrase, you must make it compelling. This is the place to show off your writing chops. You absolutely could keep it simple and optimize your Contact page. But even your contact page should have more to it than something like "Contact me to learn more about my services." Talk about yourself and what makes you unique. Include "social proof" (i.e., a quote from a happy client). Promote your certifications, if available, like HubSpot Academy badges. Include links to your best work. You get the idea.
Here's an example of a copywriter optimizing her page around "copywriter Tampa."
I have no idea if this page is bringing her business. But it comes up on the first page of Google for "copywriter Tampa," and that's more than half the battle.
If she is getting business thanks to the page, great.
If people are visiting the page but bouncing away without contacting her (info she could learn in Google Analytics), she could experiment with different messaging. You should do the same thing with the page you create. See if it's getting any traffic. And does the traffic "convert" (meaning, someone calls or emails you)? And does that prospect turn into good business? If yes to those questions, wonderful. You can leave the page alone and reap the rewards. If no to those questions, play around with the copy on the page until it brings you the type of business you want.
Got a Question for the Copy Bitch?
That's me! I'm the Copy Bitch. Contact me or visit my YouTube channel and leave a comment on one of my videos. I might make a blog post or video with the answer.
https://etrobbins.com/website/wp-content/uploads/2017/04/robin-bradley-logo-300x105.png
0
0
Robyn Bradley
https://etrobbins.com/website/wp-content/uploads/2017/04/robin-bradley-logo-300x105.png
Robyn Bradley
2023-05-05 08:07:45
2023-05-05 08:07:45
How to Market Your Copywriting Business Online