How to Find Copywriting Portfolio Examples to Inspire Your Own
One of the most common questions I get from new copywriters is this: How do I get copywriting samples if I don't have any clients yet? And that question is followed quickly by this: How should I present my samples on my website?
I answered the first question in this video, which I'll embed at the end of this blog post. Today, however, I'll address the second question and discuss how to find copywriting portfolio examples that will inspire your own. Note: I've also recorded a video about this topic that I'll embed at the end of this article. In the video, I share my screen so you can see me go through the exercise. If you're more of a visual learner, check it out.
How to find copywriting portfolio examples to inspire your own
Google the word "copywriter" and the name of the nearest city that you're in. Why? Well, people often perform location-based searches for copywriters, meaning they'll search on the word "copywriter" and the nearest big city where they're located. Think "Boston copywriter" or LA copywriter."
See the screenshot below. The volume column means the number of searches per month in the U.S.
So, for example, people search on "copywriter boulder co" 90 times per month.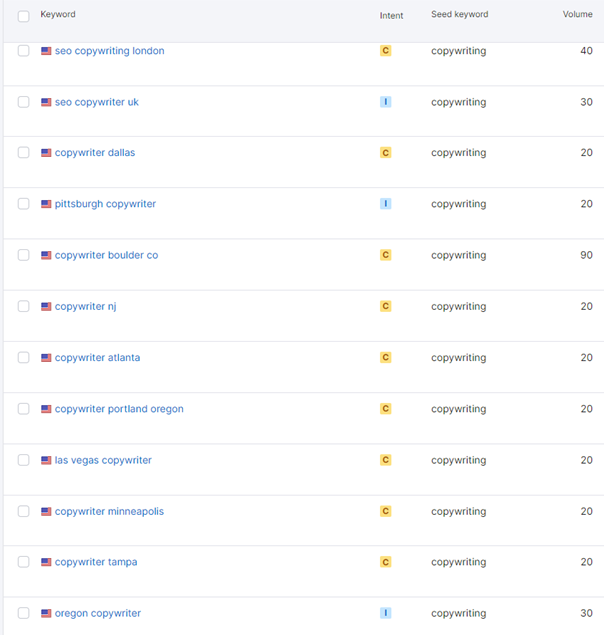 When you do one of these searches, you'll see who's ranking on the first page of Google. You can check out their portfolios for inspiration. And at the same time, you'll have a sense of who you're competing with online.
Tips for Creating a Good Copywriter Portfolio
The following tips apply to online portfolios.
Make it easy to find—no need to be cute or coy. Simply using the word "Portfolio" in the main nav works.
Keep it current. Your portfolio is never "done." You should add new pieces over time.
Audit it for broken links. Things break. This often happens if you link directly to a page on a client's website. Get in the habit of reviewing your portfolio every quarter. Check for broken links. Add in newer work.
Swap out older or "meh" work. When starting out, you'll probably add everything you write to your portfolio to bulk it up. As you do more work for clients, you'll have more samples to choose from, which means you can be more selective in what you highlight. Your portfolio should demonstrate your range and the best work in each category. Make sure you curate, curate, curate.
Break down samples by category. By category, I mean website copywriting, email marketing, landing page copy, white paper, blog posts, etc. You can break things down by category on one longer page. Or you could have a website page devoted to each category if you have enough samples to warrant the separate page and/or if you want to optimize the category page for a particular copywriting service.
Remind people you have more samples to share. It's always good practice to conclude your portfolio with something like, "The above is a small sampling of my work for clients. Ask if you're looking for something specific that I don't include above. I likely have examples I can share."
Got a question for the Copy Bitch?
That's me—I'm the Copy Bitch. I have over 20 years of experience as a freelance copywriter and love sharing what I've learned. Reach out with a question or leave a question in the comments on one of my YouTube videos.
https://etrobbins.com/website/wp-content/uploads/2017/04/robin-bradley-logo-300x105.png
0
0
Robyn Bradley
https://etrobbins.com/website/wp-content/uploads/2017/04/robin-bradley-logo-300x105.png
Robyn Bradley
2023-05-06 07:00:14
2023-05-06 07:19:51
How to Find Copywriting Portfolio Examples to Inspire Your Own