How to Get Copywriting Clients: A Tutorial for New Copywriters
The most common question new copywriters ask me is how to get copywriting clients. And this question is followed quickly by whether the writer should focus on a niche.
I've always been wishy-washy regarding the niche question for two reasons. First, I've been working as a freelance copywriter since 2002. I'm fortunate because I have ongoing clients, regular referrals, and people finding me online thanks to my website. Second, I'm a generalist. I consider myself a b2b and b2c copywriter who can write about a variety of topics. Nothing highly technical. And I'm selective now about the projects I work on.
But the other day while doing keyword research on copywriting topics, I came across some data that surprised me—in a good way. I discovered TONS of phrases that suggest people are searching for copywriters based on niches and specialties.
Check out this screenshot from Semrush, which is the keyword tool that I use. The columns to pay attention to are keyword, volume (monthly search volume), and the one labeled "K" (KD, which stands for keyword difficulty)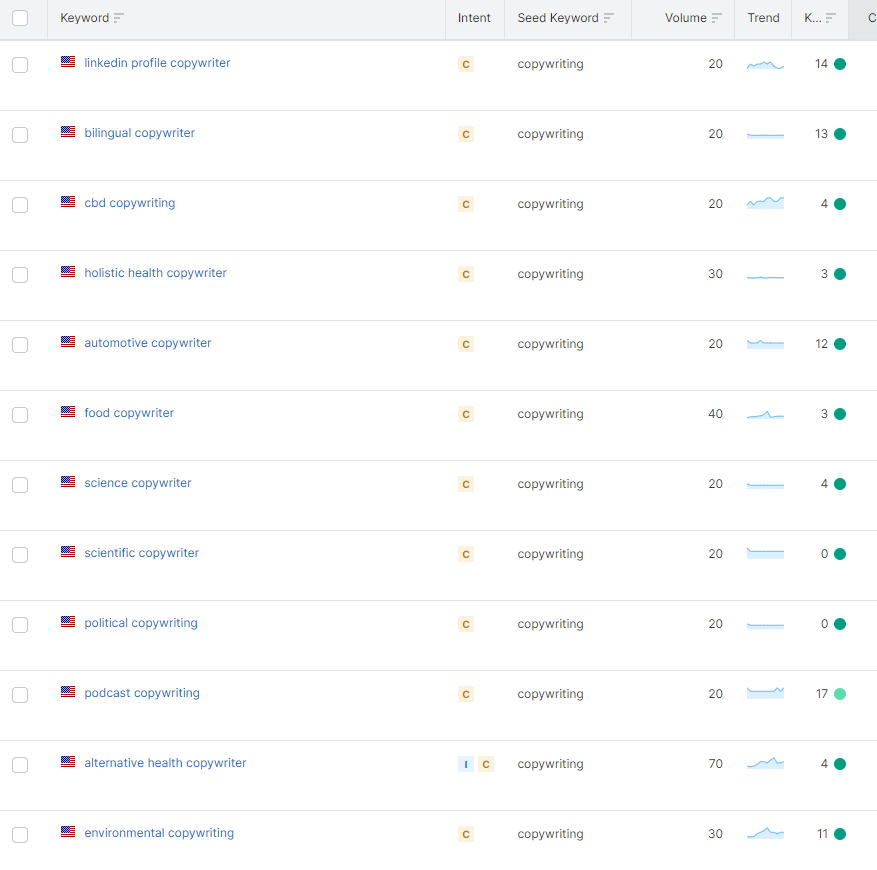 Look at some of the phrases people are plugging into search engines like Google (and this is a very small sampling):
Food copywriter
Science copywriter
Holistic health copywriter
Environmental copywriter
Now, we don't know the exact intent someone has when they plug a phrase like that into Google. But I'm willing to be that at least some of the 20 or 30 or 40 people searching on those phrases every month are looking for copywriters who specialize in those areas.
And the best part? The keyword difficulty number for these phrases is low, which means if you create optimized website pages and blog posts on your site around these phrases, you have a good chance of getting those pages and blog posts to rank high in Google over time.
Think about how this could play out for you:
You could develop a great site—it doesn't need to be fancy, but it needs to read well, look professional, and show off your writing chops.
You could have service pages about the topics you specialize in. Again, these pages would convey your expertise in these niches and your passion for the topics. You could also have blog posts on various spin-off topics that would demonstrate your knowledge and writing ability.
People could discover your site via organic search on these various copywriting niches.
If you do a great job with your site and the various pages and blog posts, some of these people landing on your site will likely contact you because they either like your style or appreciate that you know the topic so well—or both.
BOOM! That's more than half the battle right there. When a client comes to you about a project, you don't need to sell them on what you do or who you are. They're already interested thanks to what they've read on your website.
When you cold call or cold email a company, you're trying to sell them on why they need a copywriter and why they should use you specifically. But when someone comes to you through organic search, you don't need to sell them. They've already bought into the idea of using you as their copywriter. Now, it's simply a matter of discussing the project and providing a quote.
How to get copywriting clients – a visual tutorial
Below is my video where I take a deeper dive and show you exactly what I discovered.
In it, I discuss the following:
The keyword research tool I use (Semrush)
The search I ran and that you should run to find the perfect niches to focus on
How to develop spin-off topics for blog posts
A couple of excellent sites that are doing exactly what I'm suggesting here
Note: I recommend watching this video on a desktop or laptop, not your phone.
A couple of assumptions:
1. I'm assuming you've done your homework and you know what search engine optimization is (SEO). If you're serious about making a living as a copywriter, you need to understand SEO. So if you haven't done that work yet, start with this: HubSpot Academy's SEO Certification Course (it's free).
2. I'm assuming you use/have access to a keyword research tool. I have a paid subscription to Semrush. If you're tight on money, you could use Google's Keyword Planner, which is free. Here's a great article on how to use the tool, including how to find the exact monthly volume for a keyword phrase.
Have other questions about how to get copywriting clients? Ask the Copy Bitch!
That's me. I'm the Copy Bitch! I have a YouTube channel for copywriters. You can browse the videos and leave comments. Or you can contact me directly with questions, and I will (hopefully) either update this post and/or record a video that answers your question.
https://etrobbins.com/website/wp-content/uploads/2017/04/robin-bradley-logo-300x105.png
0
0
Robyn Bradley
https://etrobbins.com/website/wp-content/uploads/2017/04/robin-bradley-logo-300x105.png
Robyn Bradley
2023-03-19 13:27:01
2023-03-19 13:27:01
How to Get Copywriting Clients: A Tutorial for New Copywriters